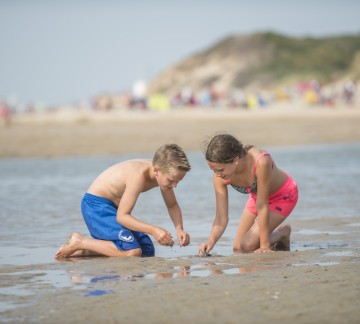 The clean, wide North Sea beach lies in the campsite's backyard. The road through the dunes is paved and goes all the way to the beach. So easy to get there with a push chair or wagon.
The beach at the campsite is very suited for walking, sunbathing and playing. Plenty of space for everyone. Walk along the beach to Cadzand-Bad, the best known sea resort of Zeeuws Vlaanderen. It's only 2 kilometres away.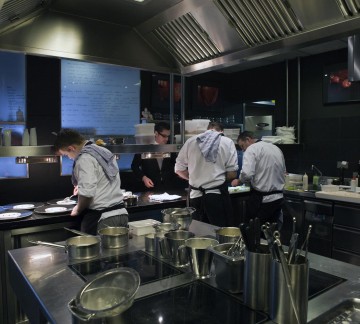 The Burgundian influence of the Zeelandic-Flemish and visits from our southern neighbours, often fairly knowledgeable on gastronomy, have no doubt influenced our kitchen. We love good food and have to live up to our reputation. Apart from restaurants, bistros and cafes we have no less than four Michelin-star awarded restaurants.
Restaurant 'De Kromme Watergang' in Slijkplaat was awarded with two Michelin stars, restaurant 'La Trinite' in Sluis, 'Pure-C' in Cadzand and ' 't Vlasbloemeken' in Koewacht were awarded with one Michelin star. Also the Top chef Sergio Herman opened a restaurant at the yacht-basin in Cadzand-Bad, named Air Republic. Zeelandic Flanders is definitely well known for its culinary arts, internationally too.
As far as fish and shellfish are concerned this is the place to be a hundred percent. For instance eight mussel restaurants in picturesque Phillippine. In this former harbour town half a million kilos of mussels are served yearly. By the way, did you know gibbing was invented in Biervliet. Restaurant ' De Boeie' in Sluis was awarded coolest restaurant of Zeeland in 2011.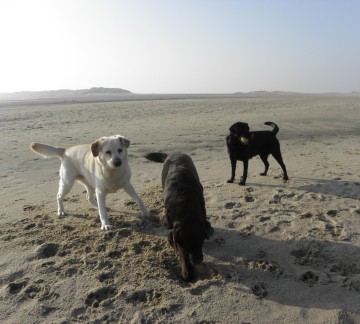 Your dog is very welcome at campsite the Zwinhoeve. Maximum of 2 dogs per pitch. In the Chalets/lodges 502 to 506 is only one dog allowed. Dogs need to be on leads at all times to make sure other guests can relax and enjoy as well.
Dogs at Cadzand Beach:
1 May until 1 October: between 10 am and 6 pm dogs allowed on leads; between 6 pm and 10 am your dog may run and roll around freely at the beach.
1 October until 1 May: Your dog is allowed to run and roll around all day long at the beach! For information about rules at other beaches please look at the signs at the beach entrances.
At reception you'll find heaps of information about the campsite and its surroundings. And of course you'll get the best advice from 'locals' about fun events, special places of interest and where to go out to.
Our campsite provides a launderette with 2 washing machines and a dryer. You can pay by Zwincard. It is possible to reload this card at the automat next to the reception. Washing powder is automatically added.
Washing €5,-
Dryer €2,-
We provide a free Wifi system at our campsite.